Survey money online. These three, perhaps a bit random words, can help you immensely or even become a stepping stone towards gaining some more financial freedom. But they don't have to be anything that monumental. You get simply an easy way to earn a few bucks. In all honesty, it's completely up to you – how much you're willing to put in.
There's no magic here – the bigger the input, the better the return on investment. We've decided to compile a complete, definitive guide to making money by taking online surveys for anyone who's looking for a quick and effective stream of extra revenue.
In this article, you'll learn:
what online surveys are
about the different types of online surveys
why the companies are willing to pay for them
how to find a legit online survey
what to look out for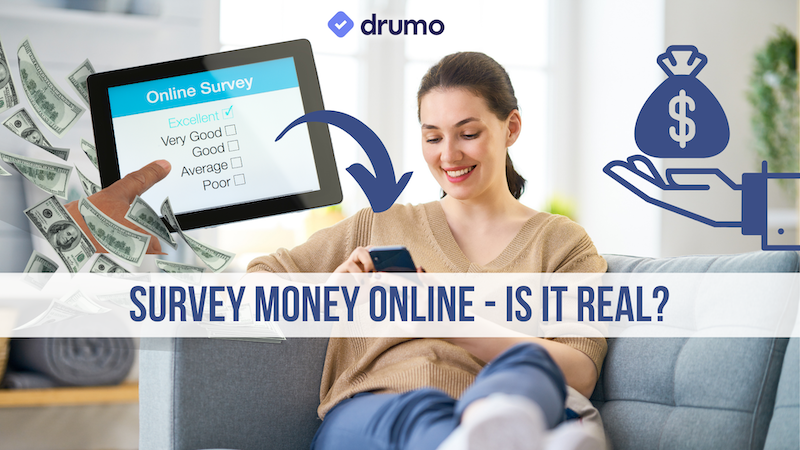 Survey money online – is it real?
The short answer is yes, absolutely.
Getting paid for completing surveys online is a real thing. It's completely legit and safe, and no – there is no catch. This might come as a big surprise for many, but there are plenty of companies that are willing to pay a pretty penny for them.
To get a better understanding of why is that we'd need to get back to the very beginning. Let's break it down – so, what is a survey? It's typically nothing more but a list of more or less complex questions asked for a very specific reason. It's just that the surveyed may not be privy to that information.
People, organizations, researchers, universities, institutions and companies all need quality data for different purposes. It's all down to what they do. Clinical examinations and some more academic research often involve hiring a focus group. Some are for social studies or experiments. Others are launched for political or public opinion research.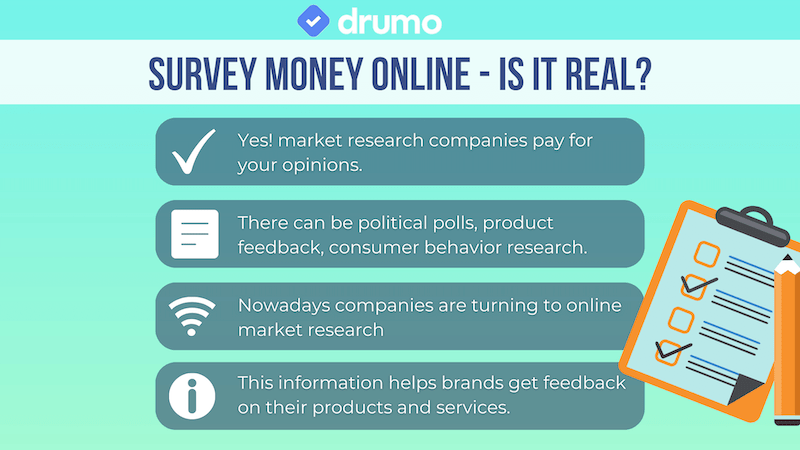 A commercial company might be interested in consumer behavior patterns to find out what particular product is likely to be in high demand and use that information to maximize profits. Plenty of companies are ready to pay for valuable feedback on their products and services to answer customer expectations. In this case, market research is the name of the game.
Why do they even want this data?
If you think all this sounds a little too good to be true, let us put your mind at ease – these companies tend to know what they're doing. So, if they're willing to splash out some cash or rewards for an "easy" job like this, they have some skin in the game. It's an investment.
Back to the issue at hand – in the beginning, it was predominantly all about in-person surveys, then they started coming in the mail, and eventually – a phone.
With technology taking over the world by storm, online surveys have now become the most frequently used type, pushing out their predecessors. And they're making them fun, too. Can you imagine that there are companies out there that will pay you literally for playing games and then just answering a few simple questions about that experience?
What a time to be alive.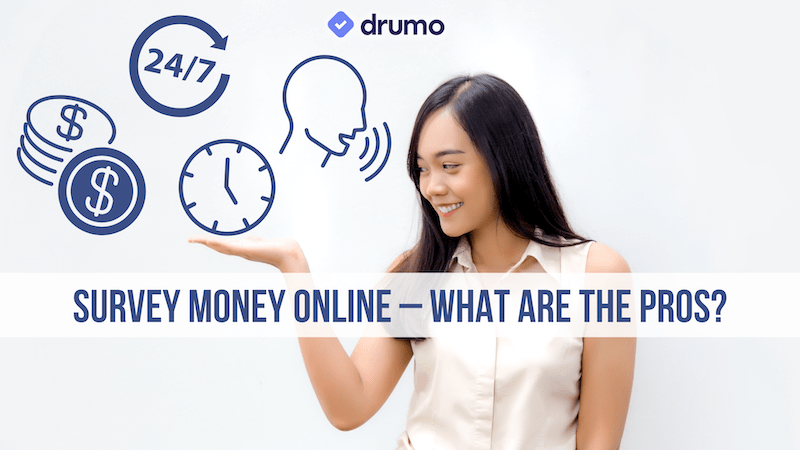 Survey money online – what are the PROS?
You might ask yourself – why even do this?
Well, there are plenty of different reasons and we're going to discuss them in a moment.
First of all, it's not a particularly demanding job.
Anyone can do it anywhere, anytime
For the most part, you can simply set up a free account, hop on and complete a few surveys whenever you have some time on your hands, or simply – whenever you feel like it. There's no schedule, no deadline or a boss who's always looking over your shoulder. It's just the question of how much time you have or willing to invest.
You can make a quick buck
Then, there's the money part (but not only). You can make some really quickly. We know that, if you Google it, the average amount for a single survey is…
Well, let's just say it's nothing to talk about.
The thing is, you're not going to be doing just one, plus it's not some kind of Herculean task you're going to have to spend a whole day on. It's quick. It's simple. Intuitive. Almost like a game. Sometimes, it is an actual game.
You just earn in-game points and redeem them for cash and rewards.
So, how much exactly? It really does vary – depending on the specific company that's paying for it. As a rule of thumb – it's anywhere between $0.5 to $5, which may seem insignificant, but seriously they do add up pretty quickly as you get paid per every single one you complete. And taking several a day is totally doable.
And just remember – every little helps.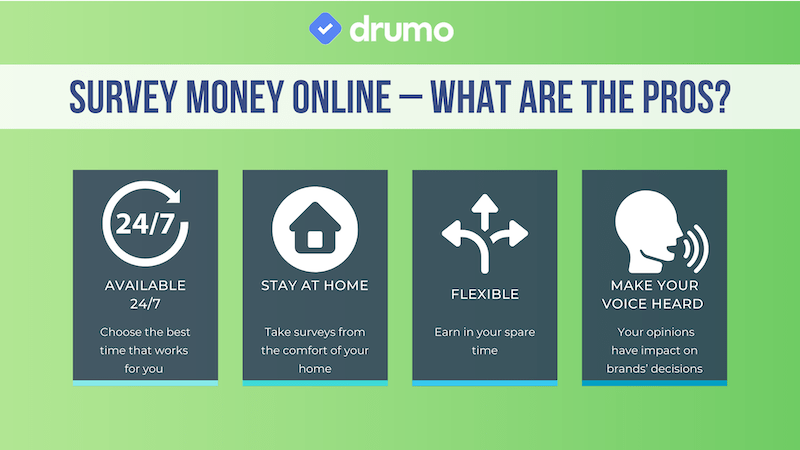 Easy to set up
You might find yourself thinking – what do I need to get started?
Nothing you don't already have. A smartphone, a laptop, a tablet – take your pick. Throw in a passably stable connection and you're good to go. Of course, it's not that simple. Keep in mind there are plenty of different types of surveys out there with different rules and requirements. Always read the Terms and Conditions and you'll be fine. But more on that later.
Generally speaking, if you're more than 16 years old, you're eligible to participate in most types of surveys available online. There are hardly ever any further requirements – pretty much anyone can get accepted. And even if you hear a 'no' – no big deal. There are literally thousands of surveys available online.
Next-level flexibility
You can literally do them whenever you are and whenever you want. Do you have to suffer through a nice long commute back home at the end of your shift? Instead of scrolling through your phone – take the survey. Not only will you be doing something way more productive, but you will also make money at the same time. Doesn't matter if you're on the bus, subway or train.
Turn scrolling into profit
Who doesn't enjoy a little bit of some good old-fashioned binge-watching some series on Netflix or Amazon? The truth is, even while we're doing that, we often end up scrolling through our phones with the show playing in the background. Why not find an easy, low-effort survey and get some pocket money? It really is that simple.
We spend so much time on our phones, it's just a matter of starting to put them to better use and making some money in the process. Of course, with so many different types of surveys, some will require more time and effort than others. But that's nothing new. Isn't it always like that?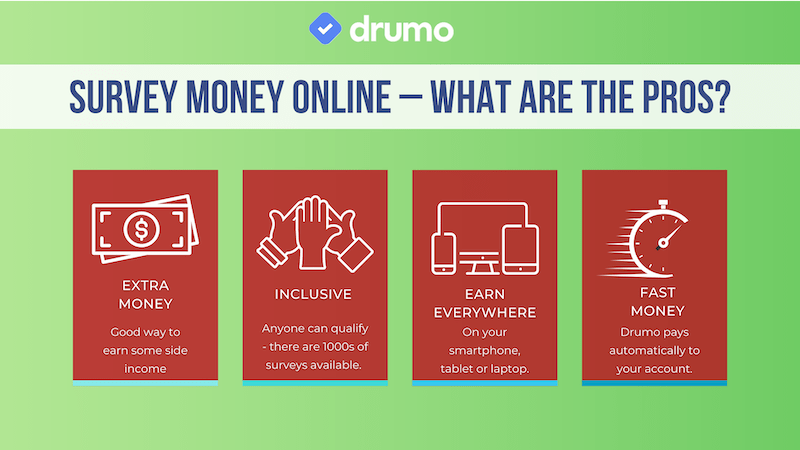 Make your voice heard
Another, perhaps often overlooked upside, is the fact that you have a direct influence on the decisions the brand is making. You might not even be aware of this, but it doesn't make it any less true.
It's not all about the money
Sure, it's nice to get paid for a few clicks on your phone. But that's not the only kind of reward you can get. Typically, you can use PayPal to redeem cash, but there are other options – like gift cards. You can exchange them for items, services, food and many more. You can finally get that thing you've been meaning to buy for so long but never got around to off of Amazon. Your favourite coffee from Starbucks can now be pretty much free. And it gets better; there are literally thousands of brands offering gift cards – Walmart, Visa, Google Pay, Apple, eBay, Best Buy, Taco Bell, Home Depot, Venmo, Domino's and many more.
Survey money online – what are the CONS?
Now, let's not get carried away. There can be some potential downsides to online surveys. The good news is, if you stick to some simple rules, you can easily avoid them or at the very least – make them as painless as possible.
Scammers
No other way of putting it.
Unfortunately, there is a good amount of scam sites that only want to extort your data and exploit it. They simply take your profile information and sell it to third parties who are ready to pay for that quite handsomely. You need to be careful. You need to do your due diligence and always be on the alert for any red flags. It may sound like a lot of work, but honestly checking a few reviews on reputable websites is more than enough to be sure you're not going to get scammed.
One final piece of advice. If a website asks you to pay some money upfront for joining – just don't. Chances are, it's fraudulent.
Not exactly a retirement plan
Even though you can get paid for taking surveys online, it's not a good idea to quit your day job just now. Yes, it's legit. Yes, you can earn some extra cash quite quickly, but it's not like you're getting to spend the rest of your days in the Bahamas just for taking surveys. The rewards and earnings do add up quickly, nevertheless, these are not exactly huge amounts. It's all about managing your expectations. Just don't take it for something it's not.
Selection process
Another thing is, realistically speaking, you're not going to get accepted into every single survey you apply for. Most of them have a so-called screening process where you are asked to answer some questions about your age, family, where you live, etc. Unfortunately, sometimes this is as far as you're going to get. Some companies will leave you empty-handed, but in some cases, you get a little consolation prize, like on Drumo.
Getting rejected can be pretty frustrating though.
You can get banned
Don't try to set up multiple accounts on the same service platform. They allow one account per user and tend to be very strict about this policy. Plenty of people out there think they're being slick and can outsmart the system and algorithms, but what they don't realize is that they're actually acting to their detriment. When discovered, which happens sooner or later, they are looking at a lifetime ban or IP blacklisting. It's not worth it.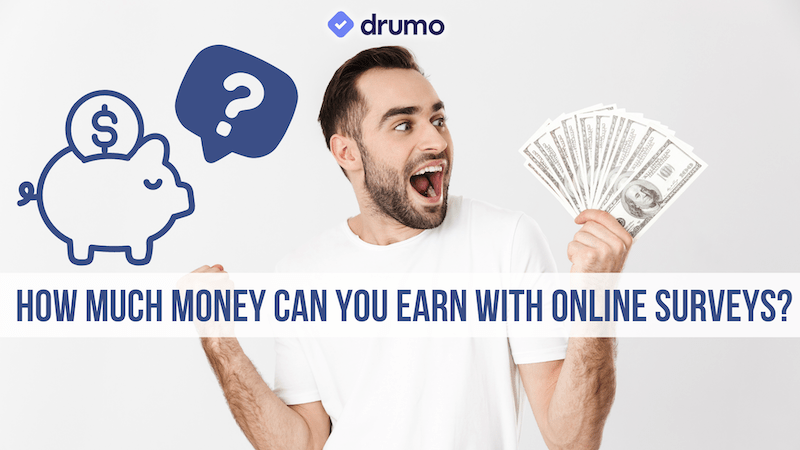 Survey money online – how much money can I earn?
Now, as we already mentioned, there's no easy and definitive answer to that question. If you're willing to really dedicate your time to maximize your profits, you could be looking at an extra $200 to $300 per month or more.
A single survey typically pays from $1 to $5, on some websites it's around $0.5 to $2, but some can even offer up to $20 or more.
It can be a little slow, but you can turn it into a quick and steady income stream. As the saying goes – look after the pennies…
It's not just the question of how much you're going to get for one survey, but also about how much of your time it requires.
You can get rewards or special points that can later be redeemed for cash or gift cards for playing games or watching ads. These are probably a little easier and more enjoyable than typical surveys.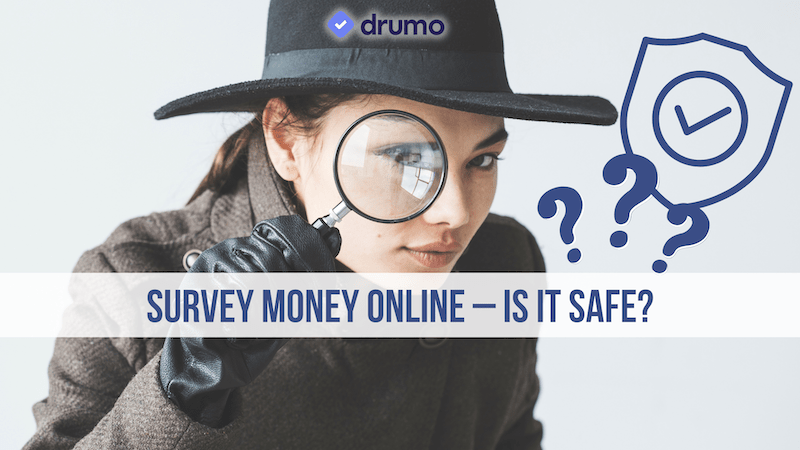 Survey money online – is it safe?
Yes, absolutely.
You just need to know what you're doing. You don't have to spend a whole lot of time thinking about every little detail – some common sense and you'll be fine. Here's a short step-by-step guide we put together to help you make the right call.
Reviews
First of all, take a look at reviews from other users at some reputable services, like Trustpilot.com, Google Play or Appstore. If it's really hard to find any, that's a red flag.
Bold claims
If you find a service offering unusually high rewards in an extremely short time, chances are – it's a genuine site. Generally speaking, some outrageous statements and wild claims are something to look out for.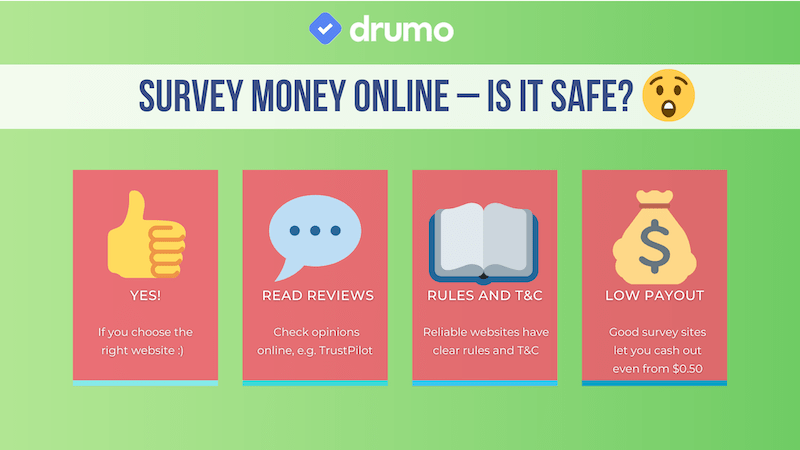 Survey money online – Terms and Conditions
Make sure that whatever service you have the intention of using has a clear-cut set of rules. It's very important to read them quite thoroughly as in some cases, T&C has a clause that they're free to share your personal information with whoever they see fit. No privacy policy available on the website is a huge red flag.
Payout thresholds
It circles back to the previous point – make sure you go through the rules. Some paid survey sites have a minimum payout threshold, meaning you have to get to a certain amount of money (and completed surveys) to be able to cash out your rewards. And it can actually work both ways – maximum payout thresholds are a thing. It's not always an option, but you should always try to pick one that doesn't have either or allows you to make small withdrawals as well, like Drumo.
Monitoring
Check your account regularly to make sure the funds (or rewards for that matter) are added after every single survey you complete. It's for your own good and that you know how trustworthy a given website is.
If you follow these steps, you won't have any problems finding a reliable website. Before you even know it, you're on a fast track to more financial freedom.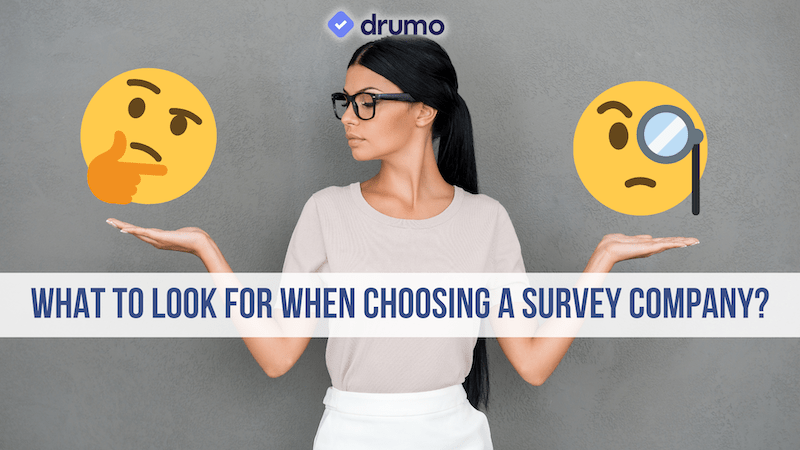 What to look for when choosing a survey company?
You should pretty much go about that process the same way you would when you're trying to make sure an online survey platform is safe and reliable.
First challenge
First of all, find out if it's available in your country and if you're eligible. There could be some age restrictions or they're looking for a people of specific group or background. When that's done, it's time to verify if it has some established online presence – it's best to use Trustpilot or similar websites.
Due diligence
Make sure you give the good ol' Terms and Conditions a thorough read – check for any red flags, verify how transparent they are about their policies, rules, especially regarding data protection and payout requirements. Once that security clearance is taken care of, you can move on to the selection process.
Another trick you can use is to get in touch with their Customer Service first, just to know if they're available and if you can get some help in case of any issues.
Give yourself some options
It's important to know how much time you're willing to commit and what kind of surveys you're interested in. Maybe answering questions over and over again is simply not for you.
Look for a company that offers rewards for something else – like games or watching ads. In this case, variety is your ally. You get to enjoy yourself a little bit more and still make money.
This is also a good way to ensure you're not going to get bored quickly and that you always have a bit more opportunities to earn more.
Pick your plan
Then, see if it's available for your device – a laptop is usually the safest bet, but that's not always the case. Some companies use apps exclusively, so do your research and make the right call. Always consider your lifestyle and preferences, the key here is to make it as convenient as possible for yourself.
Payment rules
Next important point – payout restrictions. Our advice is to find a service that offers no minimum payout or allows for low payouts. In our experience, this is a hallmark of great service – if they're legit, they're not interested in keeping waiting people for months before they can cash out. It might not be a big deal for many, but honestly, it can get annoying.
It's hard to feel motivated when you're working on these surveys and have nothing to show for it until you manage to accumulate $100. Plus not everyone is ready to go all in straightaway – some people just want to test the waters and see how they're getting on.
Making regular withdrawals is also a way of verifying whether a website is legit or not. A good example of services like that is Drumo, where you can take out as little as $1. Some platforms offer streak bonuses, which is a nice tool to get the most out of taking surveys.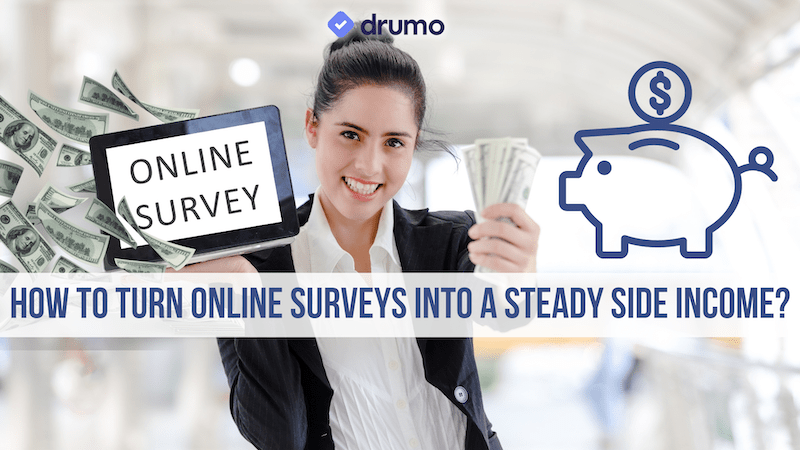 How to Turn Online Surveys into a Steady Side Income?
If you want to be serious about it and looking to maximise your profit, there are some important takeaways to make that happen.
Find a reliable website
We can't stress this enough. Be careful, don't pay any joining fees, don't listen to promises that sound too good to be true and read some reviews. Simple as that.
Get on a schedule
It's much easier to make things done with some goal in mind. Try to dedicate a specific amount of time throughout the day or take surveys whenever you have some extra time. It's kind of like having a work schedule, but it'll really pay off in the long run.
Look for variety
This is not your actual job. That's why keeping things interesting and fresh is crucial for your motivation as well as enjoyment. Try to find a website that offers a wide variety of different tasks and rewards – they're often called GPT (get-paid-to) platforms. Plus, it's not just about the variety, but also – the amount of work available.
Bonuses
Some services offer a daily reward simply for logging in, or streak bonuses, special events or activities. They help you maximize your earnings and keep you more motivated.
Take your time
While it can be tempting to just speedrun through a survey to move to another one as quickly as possible – believe us, it's completely counterproductive. Give honest answers and be serious about it. These companies pay for quality data, if you're not giving them that, they'll catch on pretty quickly and disqualify you. Waste of time for everyone.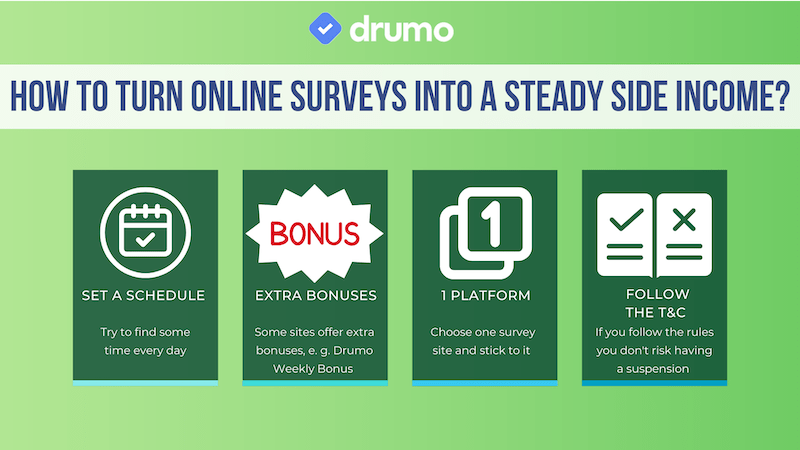 Follow the rules
This one's pretty obvious but it needs to be mentioned. Nobody likes to read T&C, but in this case, it's very important. It's for your own good. Don't get yourself suspended or completely banned for doing something you didn't know you should. Follow their tutorials and best practices.
Don't overdo it
While we do recommend signing up for a few different websites to make sure you have more opportunities to make money, don't overdo it. As we already mentioned, some market research companies use the services of multiple websites. Don't get overzealous and register for too many – once they know, you'll most likely get disqualified or banned. It's much better to get comfortable with one, and only then try to expand.
Set up a PayPal account
Thanks to the flexibility it offers, unsurprisingly, a PayPal account is a bit of a staple with these platforms. Make sure you have one ready and hook it up to your online survey service of choice. Depending on a website and its internal rules, you might have to get a verified account. You want to take care of that as soon as possible to really optimize your survey money online business.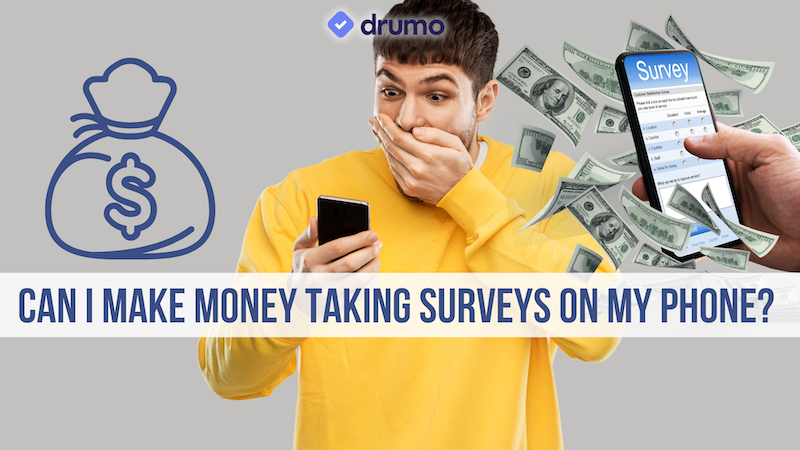 Can I make money taking surveys on my phone?
You can.
There are actually quite a few apps designed specifically for this purpose. They're very user-friendly and give the opportunity to take surveys wherever you are – all you need is a stable connection.
Some companies use apps exclusively. Some have both. There is a third group though – the ones that do not have an app but run very well on mobile versions with integrated account feature, so you can use them across all your devices.
All of the above are viable options and it's really just a matter of preference. Nevertheless, being able to use different devices to complete surveys is a great way to maximize both – your productivity and earning potential.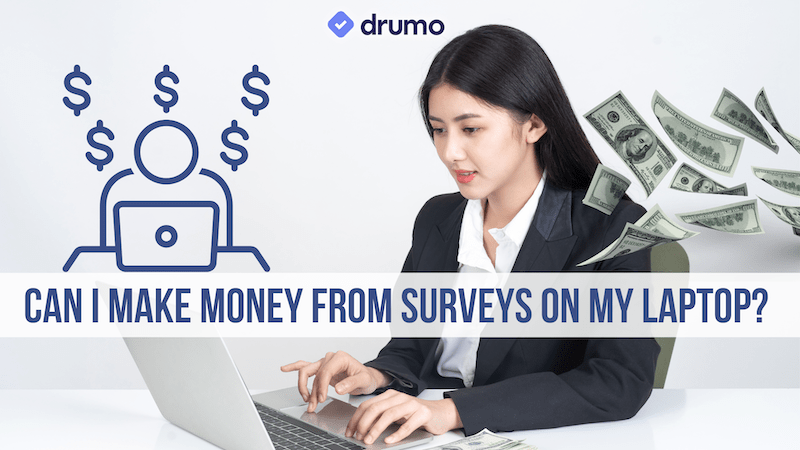 Can I make money from surveys on my laptop?
Not every online survey company has an app or makes you download one. You can simply visit their website on your laptop and start working.
There are, however, some things you need to consider.
Safety
That probably goes for all devices, but with a laptop, it's even more important. Don't use shared networks, just go for a secure home Wi-Fi to mitigate any risks.
Disable your AdBlock
It's a simple tip, really. if you're using AdBlock or similar software, make sure it's disabled when you want to sign up for the online survey platform. If you don't, sometimes the site will not be able to track your progress and record the results.
Multiple accounts
If you share your laptop with other people or family members and they also want to use the same survey company, see how that sits with them. There's a chance it's not allowed and you lose your account.
Survey money online – quick summary
Is survey money online a good side hustle?
It's definitely up there. Sure, you're not going to get rich beyond your wildest dreams, but it's easy, effective, straightforward and quick. There could be better options, but also much more labour-intensive. Once you get the hang of it, it'll feel effortless.
How much can I make?
That is completely up to you. After all, only you know how much time you want to dedicate to this. Realistically though, you can make an extra 200$ to 300$ a month. Some surveys pay better, some worse, so that amount can be much higher.
What do I need to get started?
A phone, a laptop, a tablet – whatever you have available and like the most. Just make sure your connection is stable and remember to steer clear of VPNs and AdBlockers.
How to pick the right website for mu survey money online business?
Reviews. First, you have the make sure you're safe and that other users have tested this service. It's best to use websites with a lot of different types of paid tasks (not just surveys) and the ones that don't have a minimum payout or allow the users to withdraw small amounts – as a rule of thumb, a dollar.